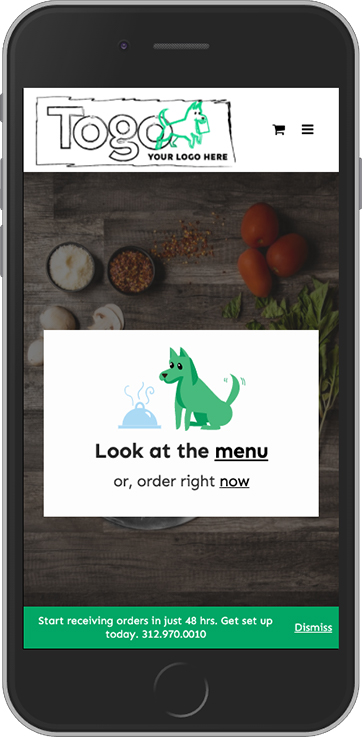 READING TIME 3 MINUTES
COVERT NINE, the team behind Togo, has dedicated the past two weeks to drawing, designing, coding, writing, and testing a platform, tailor-made for food and beverage concepts who need online ordering.
FoodRunner was the original name, but that didn't feel quite right.
Several rounds of text-only logo concepts were missing the mark too. The extremely talented Mallory Phillips masterminded a much better logo, and more importantly, the lovable doggy you see now. We named the doggy and the new WordPress theme, Togo. (Toe-go, or Too-go.)
Little did we realize our muse was at Tim's feet all along. A sprightly, super cute 16 year-old black lab.
But enough about our cute little doggy—what's more important is what she represents: A website designed for restaurant-goers to order from, and for restaurateurs to manage themselves.
Togo is a web app built with WordPress and WooCommerce that gives any restaurant or brewery pickup and delivery capabilities. It's able to replace your existing site or work alongside it.  – Thousands of restaurants and businesses big and small rely on WordPress every day—and so can yours.
What makes Togo special? Let's meet her and find out!
She runs on the new block editing system because it makes editing the menu and all pages…just easy. 
WooCommerce manages orders. This allows you to have a single ordering system for both food and merchandise. Simply add your products and connect your payment gateway information and you're ready.
With Togo, there's simply no need to pay a third-party app 15-30% of your revenue to take orders from your existing customers.
Easy for customers to order online, no excessive fees from 3rd-parties.
Togo is not a driver service. Togo most likely will not replace your venue point-of-sale system, but it may work in conjunction with it.
Sites powered by Togo are simple and intuitive for customers to use on just about any phone, tablet or laptop. Editing the menu, pricing, and content is just as easy.
Order notifications arrive directly in your inbox, with plugins available for text message notifications. That way you can make delivery updates–right from your WordPress admin.
Togo supports most plugins available for WooCommerce, including:
Support for a wide range of 3rd-party payment processors
Order minimums
And even a handy 'leave at door' option as we've used in our demo site.
Watch the brief walk-through videos below to see the WordPress block editor and C9 Blocks plugin in action as we create the homepage from our demo website.
Learn how to create a restaurant ordering homepage with Togo in just 6 minutes!

Watch the videos below.
Already set up to take orders
Completely transform this theme to fit your needs in just 48 hours.
Some of the things you can add:
YOUR logo
YOUR photos
YOUR menu
GIFT CARDS
A blog
Your hours
History
Photo galleries
Videos
And social media links!
Plus, setup and training by the nicest pros you'll ever know.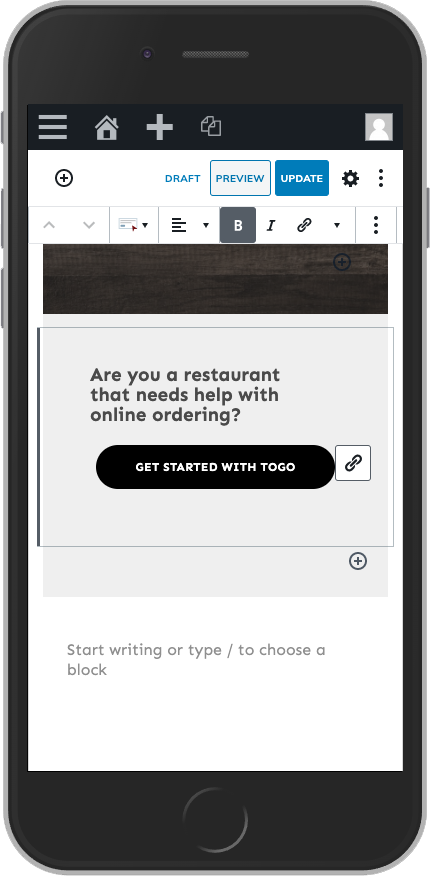 Do It Yourself
Setup Togo
As with all of our themes, Togo is completely free and open source. The theme zip file available on the download page contains a CSV in the sample content folder that you can use as a template to batch import menu content.
We recommend testing on a local environment, and only using secured WordPress hosting environments when accepting payments.
If you or someone you know is familiar with WordPress, you can download and setup Togo by following the step by step install and configure guide.
You'll install WooCommerce, batch import sample content, and go through the Customizer to add your logo, icon, site defaults, and customizations.
We use Linode servers to power our Togo websites, but it should run on most modern WordPress hosting providers.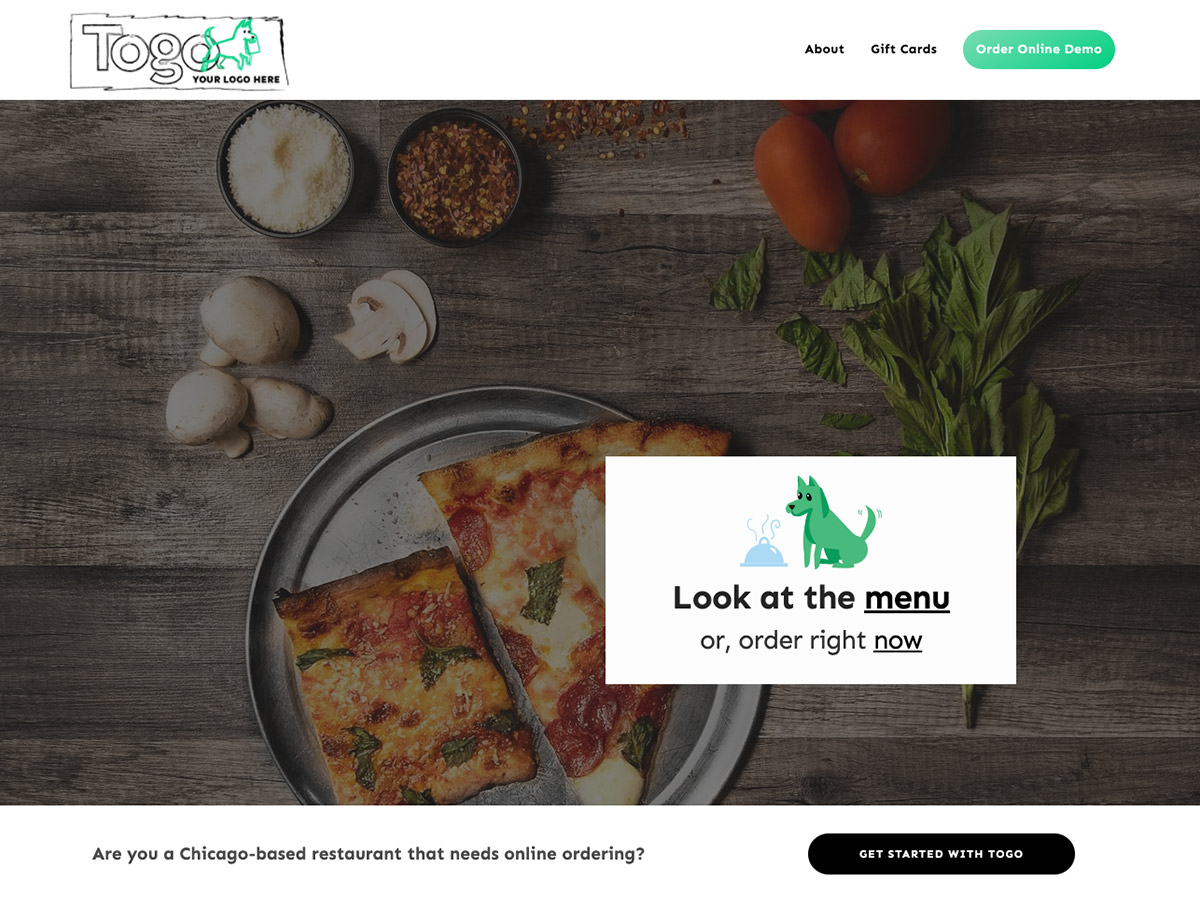 C9 Togo WordPress Theme
Delivery and pickup driven concept for restaurants & breweries
Fully responsive with the help of Bootstrap and CSS Grid. Download all of our themes and the C9 Blocks plugin right now by signing up for our early access list.
Anyone who's signed up in the last 48 hours got the Togo theme sent to them automatically, via black voodoo magic.